Welcome to Piraiki Beer
About Piraiki Beer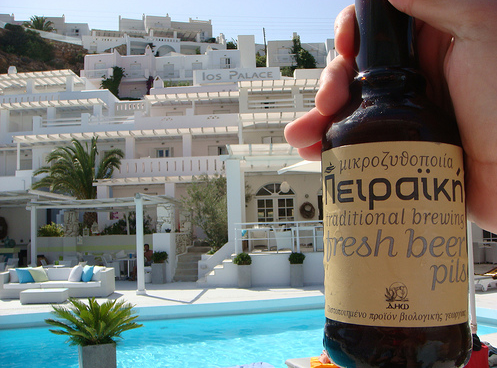 The love for authentic flavour, the search for aromas and quality that only the original natural materials and the traditional way of brewing can ensure, led to the creation of the first fresh Greek organic beer of traditional brewing: "Piraiki".
"Piraiki" is a fresh beer, in limited quantity, without added flavours and preservatives. Selecting malt and hops of certified organic cultivation and origin "we boil" the traditional way and we leave the aromas and flavoursome substances, those that mass production does not discover, those that make beer an exclusive, tasty and qualitative drink. Engaging technology, as for the installations and the methods of hygiene, with tradition as far as the process of brewing and the natural biological malt are concerned, we applied in Greece the German "Law of Cleanliness".
"Piraiki" combining freshness and tradition, is brewed, blended and matured within 6 weeks no matter season. It is offered in two types: Pils and Pale Ale.
Production
With the term "fresh beer" we mean the beer which has not gone through the final phase of production which is the thermic process of pasteurization, which disappears the aromas of materials and levels the flavor of the final product in order to ensure a longer duration of life. That is to say the production of beer from "Piraiki Brewery" becomes by following faithfully the German law of "cleanliness of beer" of 1516, according to which beer is only the produced product from water, barley malt and hops.
It begins with the milling of barley in the form of malt. Then this is mixed with special processed water, in different temperatures and for determined periods of time, aiming at the disengagement of all flavorsome characteristics of feedstock. Then follows the elutriation of solid remains from the humid product, with which in its turn is put in the boiling container. At this point the hops are added which will moreover contribute to the flavor and aroma. The resulting liquid is named wort.
Wort is passed in the blending - maturation tanks and the yeast is added, which in a specific period of time changes the sugar contents to alcohol and carbon dioxide making the final product: beer. By the end of maturation, "Piraiki", contrary to the industrial beers that are pasteurized, passes from two phases of filtering and micro-filtering in order to become a "crystal" bottled product, fresh, with three months duration of life, of high flavorsome and qualitative specifications.
The product, independent of the season, will remain in the tanks about six weeks. In the seven first days the blending takes place while all of the remainders belong to maturation, a process which is essential at which the product acquires its flavorsome and aromatic identity.